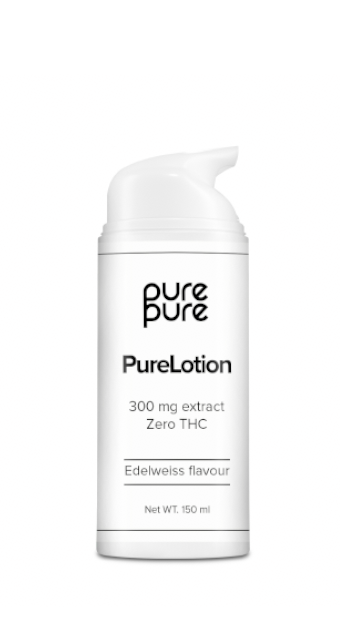 CBD Lotion – the very effective Pain Killer
One of the most popular ways to consume CBD on the market is CBD topicals. They offer the same benefits for well-being as CBD oils, but you do not ingest them; instead they are applied directly on your skin, just like body creams & lotions.
There, they provide a localized dose of CBD, making them ideal for aches and pains without having to alter your body's natural balance. And being in lotion form, they also act as a moisturizer, helping to keep skin healthy with localized CBD application. 
How do they actually work? When you apply CBD lotion directly onto the affected area, the lotion with CBD active penetrates through the skin, where it can start working straight away. Some people feel CBD topicals can act faster than CBD oils, because they are applied directly onto affected area, where they are needed most. They do not need to be digested by the body and work its way into the bloodstream and then towards the affected area.
Our PureLotion offers a natural solution for local application, easing the pain within as little as 45 minutes. Plus, there is a whole range of skin conditions and ailments that it can be treated with CBD lotion. Below is a list of some of the conditions you may consider using PureLotion for:
Muscle and Joint pain
Post-workout aches & soreness
Chronic pain
Headaches
Skin inflammation
Eczema
Skin infections
Burns and Rashes
Arthritis
How Do You Apply CBD Lotion?
How you apply, CBD lotions are going to be very much based on what you hope to get from it. If you are planning on using it as a form of pain relief, you are going to want to apply and use it in much the same way you would a pain killer, waiting for the pain and applying to the affected area.
If, on the other hand, you intend to use CBD lotion for consistent pain, for example, Arthritis, applying CBD to the painful area should form part of your daily skincare routine, even on those days when you are not in pain. Similarly, if you are using CBD lotion as a moisturizer, you are going to be applying it at least once a day and possibly even twice.
Within 10 minutes of applying the lotion, you should find that pain starts to ease, and the area might even feel slightly numb. Just as with regular pain killers, it is unlikely that the pain will completely disappear, but you will find that the pain is less noticeable and easier to manage. If you are looking to use CBD lotion for treating more long term effects, for example, to rejuvenate your skin, it might take a few days before you start to notice a difference. It is the same for chronic pains; it will take time for your body to heal.